Estimated Reading Time:
6
minutes
In this following report, we learn the concepts of Real-Time Communication Tools Used in the Manufacturing Sector to make sure the flow of work is efficient.
By Jyothsna Sai Swaroop Surisetty,
Associate Consultant in R&D and Career Coaching, Cademix Institute of Technology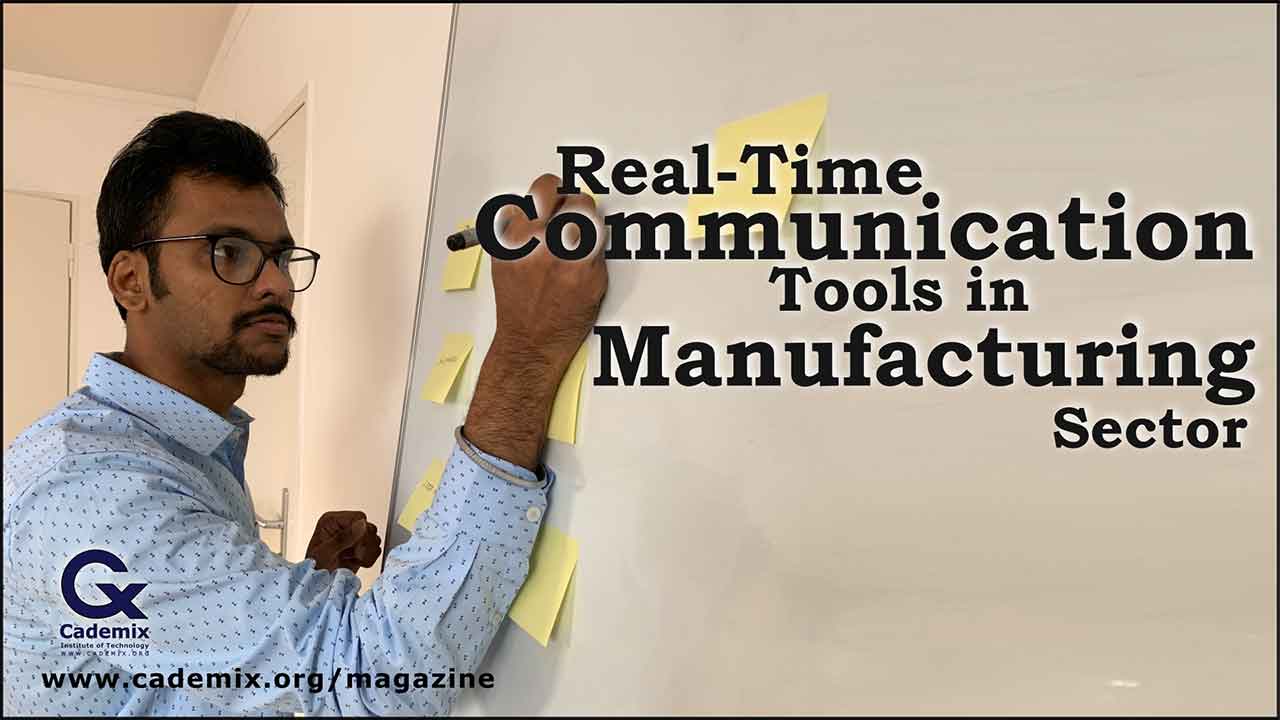 Associate Consultant in R&D and Career Coaching, Cademix Institute of Technology
We try to understand the important Agile tools that are needed in Real-time Communication used in the Manufacturing Sector to make sure the workflow is more efficient.
Introduction to Manufacturing Industry
The manufacturing sector is one of the largest and fastest-growing industries, the main purpose of these industries is to make the raw material into a finished product by adding value to it. The products that were produced are used in Automotive, Composites, Aviation, Food, and in Chemical industry by using labor and Advanced manufacturing machines.
In order to obtain an efficient product below are the five parameters:
Design: Some of the tools such as CAD, Solidworks, and CATIA designers construct the product according to the requirements of the customer and the specialist process needed to manufacture them. In the meanwhile, they should also make a simulation before the product is developed in the production department.
Development: The development team take the design and make it work in the manufacturing of the product and they are also responsible for safety production, availability of materials and their cost, lead times, quality, production scale.
Production: During the production of material, the process engineers try to optimize the production cycle with better efficiency. On the other hand, they should also follow the safety regulations, health, and environment, troubleshooting of machines in the production line.
Quality: Quality checks have to be performed under ASTM or IST according to the standards of the company in order to check the shape, size, colour, and length of the product. Quality control is necessary by considering customer's quality standards, climatic conditions, and Complying with the regulations.
How Manufacturing Industries can get rid of obstacles
The manufacturing companies are expanding their businesses faster than ever, they are always in continuous battle in this competitive world to maintain their brand value, meet deadlines, and to keep customers happy. In order to remain in high demand and profitable, these companies need to be faster and more agile. Therefore, to ensure this the faster the production and business information flow within the organization, the faster it can respond to changing market demands.
To maintain sustainability in the market one of the important concepts is workflow. What is the workflow? Workflow is a set of tasks that need to be accomplished within time by a group of people and interactions among them, so this makes the work more efficient and transparent. It can be used in both personal and business life such as in manufacturing, finance, hospitality, travel, etc.
In addition, to that organizations spend thousands of euros on using advanced technologies for faster production rates especially in manufacturing industries but the important thing they have to address is how good is the workflow to obtain better efficiency.
Initially, they need to focus on mini errors as they are very small to identify and those errors will turn into big problems. Besides, those companies are usually concentrating on major issues that occur in the production line which is easy to identify and can solve instantly.
Comparison of Scrum vs Kanban and Trello vs Asana
Some of the collaboration tools used for agile methodologies during product development or process development in manufacturing industries are as follows
Scrum: Scrum is a pull system and these teams work in a series of sprints within two weeks of length. The product owner and development teams select high priority items from the product backlog that it can commit to delivering in a single sprint. If in case there are any new items arise, they must wait. All of them are performed on scrum boards or else also known as the agile board.
Kanban: Kanban is a pull system to visualize your work and it is a continuous process with no sprints. In the Kanban board, each column has work in the limit (WIP) so that to ensure better efficiency with less time and this can be done using Kanban board and cards and enhance the flow of work.
Trello: Trello is a tool to organize projects into boards like the Kanban system. It's a visualization tool that how teams work together, who's working on what, what is in progress, and which tasks are been accomplished. Trello is free software and can able to manage workflow with respect to the time limit. Therefore, continuous monitoring and workflow can be performed using this tool.
Asana: Asana is a project management tool that can have a cable of managing large and complex projects, it has the same feature as Trello a group of professions can come together and can collaborate on one space. The main motive of asana was to improve work efficiency by reducing tasks, emails, and meetings.
Table 1: Scrum vs Kanban
| | |
| --- | --- |
| SCRUM | KANBAN |
| Text box iterations are prescribed | Text box iterations are optional |
| Uses Velocity | Uses Lead Time |
| Item must be broken down so that they can complete within 1 sprint | No item size is prescribed |
| WIP unlimited | WIP limited |
| Cannot add cards until its finished | Can add cards continuously |
| It can be accessed by specific team | It can be accessed with number of teams |
| Teams cannot make any changes during a sprint | Teams can make change any time |
Table 1:Differences between Scrum and Kanban

Table 2: Trello vs Asana
| | |
| --- | --- |
| TRELLO | ASANA |
| Unlimited number of team members can accessible | Limited team members up to 15 |
| File sharing and communication is possible | File sharing and communication is possible |
| No Gantt timeline charts | Gantt timeline charts can be used |
| While multiple tasks make it is difficult to manage | Managing multiple tasks is easy |
| No training is required | Little training is must |
Table 2:Differences between Trello and Asana
A small example that how Real-Time Communication Tools works in the Manufacturing Sector:
At any point in time, you can use a chat interface to communicate with other team members and can have a one on one chat or select multiple team members. This actually helps in involving group discussions, report sharing, and can update the status of present work.
Workflow – Design Process
Collect information
Analysis and bring ideas
Develop solutions with the core team
Present your ideas to others
Improve your design
Finally, execute
Table 3: Workflow Analysis

In short, from the above Table 1 and Table 2, each tool has its own pros and cons depending upon the requirements of the company or individual they have to choose the right tool which best suits their work because different organizations use different strategies to complete the efficient flow of work.
In addition, to that there are other agile tools that are more flexible to understand because of their design interface and most of them would like to have an easily accessible feature that makes everyone understand quickly
Related Keywords
Project management, Effective communication, Agile Team, Agile development, Continuous improvement, Agile methodology, Daily scrum
Scrum master, cross-functional, Stakeholder, Extreme programming, Agile methods, Scrum, Management software, Agility, Iteration
Agile manifesto, Agile approach, Agile practices, Agile principles, Product backlog, Agile process, Agile teams, Scrummaster, Methodology, Iterative, Business value.