Estimated Reading Time:
7
minutes
At Cademix Institute of Technology, we understand the need for adaptability in today's dynamic job market, especially when it comes to immigration goals. Our Career Autopilot Transformer is more than an acceleration program. It is a vehicle for career metamorphosis, designed to transform your professional profile to align with the high-demand occupations of your destination country, effectively increasing your chances of immigration success.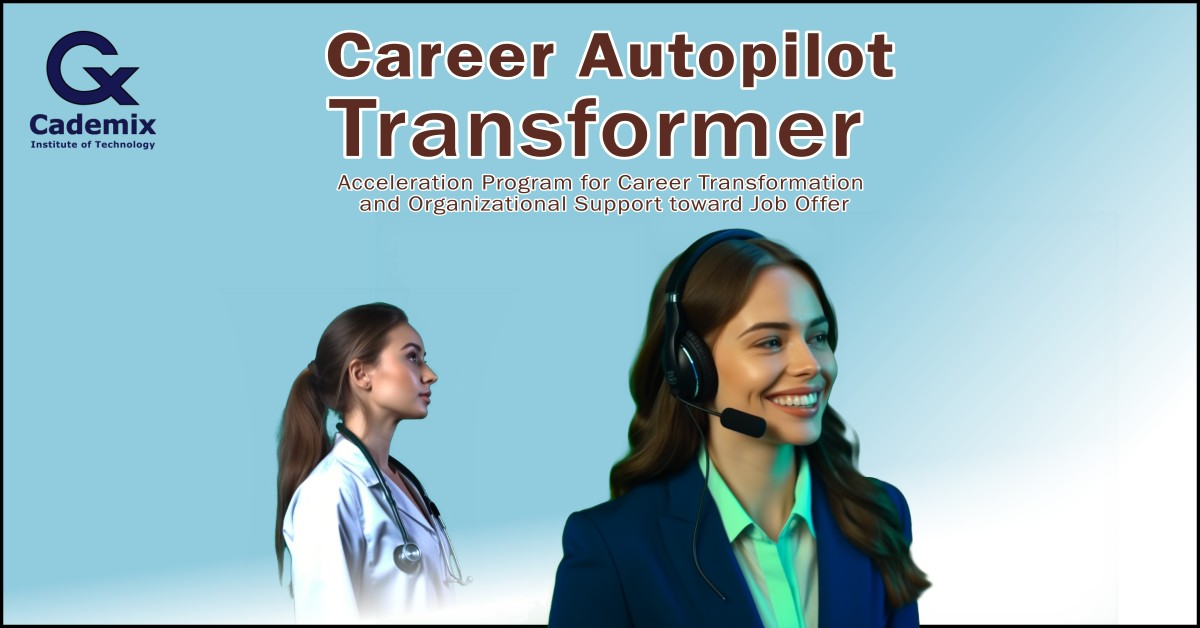 Importance and Necessity of Career Transformation
The global job market is rapidly evolving due to advancements in technology, changes in socio-economic landscapes, and shifts in international labor demand and supply. This swift evolution often necessitates career transformations, especially for individuals seeking immigration.
In the context of immigration, career transformation is not merely about changing jobs but about a strategic repositioning of one's professional profile to align with the in-demand skills and professions in the destination country. This can significantly boost the prospects of securing a job, obtaining a work visa, and ultimately achieving successful immigration.
Moreover, career transformation also opens up opportunities for personal growth and professional development. By learning new skills and adapting to new work environments, individuals can broaden their horizons, increase their job satisfaction, and achieve better work-life balance.
Professions and Disciplines Most Likely to Require Career Transformation
Certain professions require a more complicated and lengthy process of accreditation when moving from one country to another. This includes regulated professions like medicine, nursing, teaching, engineering, and law where credentials obtained in one country may not be automatically recognized in another.
In such instances, the individual may be required to undertake additional studies, pass specific exams, or gain local work experience before they can practice their profession in the destination country. The process can be daunting, time-consuming, and sometimes, even financially challenging.
In contrast, other professions may not be regulated but may be saturated in the destination country, making it difficult for immigrants to break into the job market. These professions might include fields such as humanities, arts, and certain branches of social sciences.
Our transformation program targets such cases, aiming to transition individuals into in-demand professions, also known as shortage skills.
Shortage Skills and High-Demand Professions
Shortage skills and professions refer to those areas where the demand for skilled workers exceeds the supply. These areas can change dynamically over time and are often reflective of the technological advancements and economic priorities of a region.
In Europe, the current high-demand professions are related to IT and engineering, artificial intelligence, mechatronics, precision agriculture, and various other topics related to digital transformation. Roles in these fields are typically characterized by their interdisciplinary nature and often require skills in international marketing and sales.
The Cademix Career Autopilot Transformer program can help individuals navigate this dynamic job landscape, providing them with the necessary training, guidance, and support to successfully transition into these high-demand professions, thereby boosting their immigration prospects. The scheme of the program is very similar to Cademix Career Autopilot Plus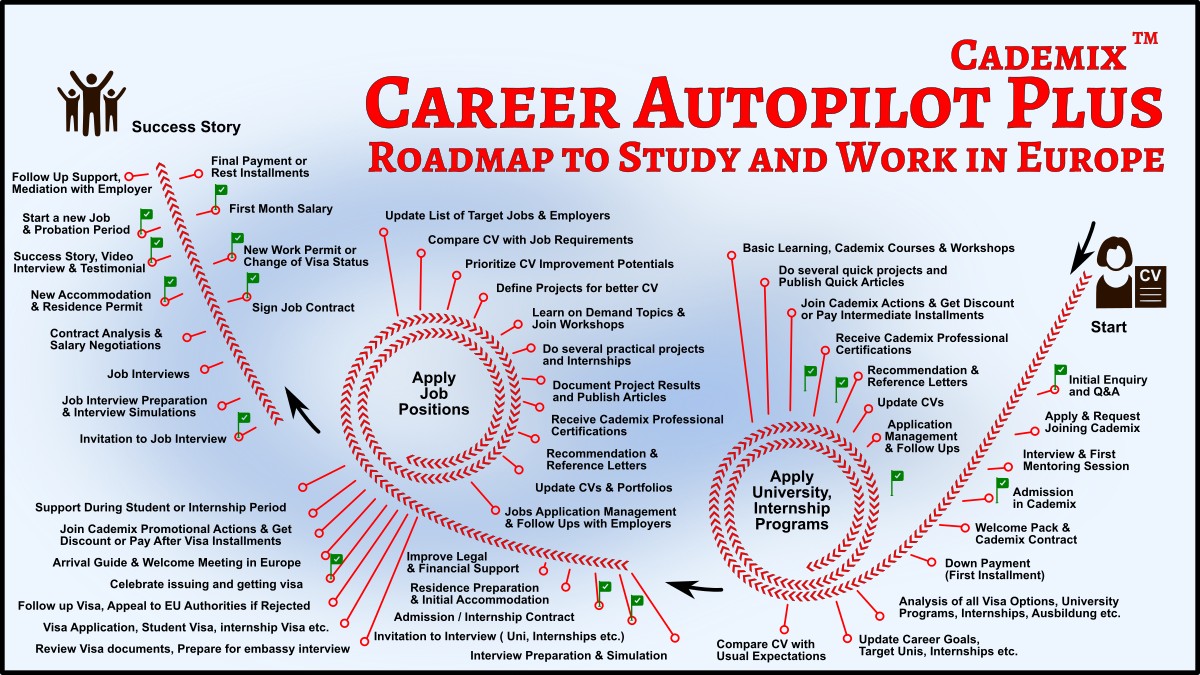 Phase 1: Introduction and Orientation on Transformer Program
Our program starts with an initial inquiry and Q&A session, where you get the opportunity to learn more about the program and have your questions addressed. Upon application, you partake in an interview and initial mentoring session to assess the program's compatibility with your career aspirations. Once admitted, you will receive a welcome package, a Cademix contract and be requested to make a down payment (first installment) to kickstart the program.
Cycle 1: Career Analysis and Goal Setting
In this cycle, we focus on an extensive analysis of visa options, university programs, internships, and other career opportunities in Europe. We help you redefine your career objectives, target universities and internships, and align your CV with standard expectations. Additionally, you get to participate in basic learning sessions, Cademix courses, workshops, quick projects, and write articles. You also get to join Cademix promotional actions and get discounts or pay intermediate installments. Alongside this, you receive Cademix professional certifications, recommendation letters, reference letters and continue to update your CV and application management.
Phase 2: Preparation and Integration
The second phase emphasizes interview preparation, simulation and actual admission into universities and internships. You get support in improving your legal and financial position, reviewing visa documents and preparing for embassy interviews. Upon visa issuance, you will receive an arrival guide and a warm welcome meeting in Europe. Also, during the second cycle, you join Cademix promotional actions, receive support during your student or internship period, and update your list of target jobs and employers. You continue to receive Cademix professional certifications, recommendation and reference letters, and keep your CV and portfolio updated.
Phase 3: Job Placement Support and Settlement
In the final phase, the focus is on securing a job and settling into your new life in Europe. We assist with job interviews, job interview preparation, simulations, and support in analyzing job contracts and salary negotiations. Once you've secured a job and settled into your new accommodation, Cademix continues to provide mediation and support as required.
The Career Autopilot Transformer program is a comprehensive roadmap to studying and working in Europe. It provides international job seekers with the support and guidance they need to navigate a new country and career path. With Cademix's mentoring and assistance, you can achieve your goals and start a new life in Europe with confidence.
Why the Cademix Career Autopilot Transformer Program?
The Career Autopilot Transformer program offers numerous benefits to international job seekers. It provides an opportunity to breakdown the career development and job search process into manageable stages, making it an appealing option for individuals who may lack a competitive CV or self-confidence. It allows job seekers to make a faster move to Europe and benefit from the cultural and social opportunities it offers.
In addition to this, the program provides personalized mentoring and professional certifications. This support is crucial for job seekers who may be unfamiliar with the European job market or who may need assistance in developing their technical or soft skills. Being affiliated with the Cademix Institute of Technology Austria adds significant value to a job seeker's CV, making them stand out in a competitive job market.
Finally, the program offers legal support throughout the application process, from the start to the point of job stabilization in Europe. This can be particularly beneficial for international job seekers who may find the complex legal requirements and visa processes in Europe challenging.
Why Join Transformer Program Now?
There are many compelling reasons to join the Career Autopilot Transformer program. Firstly, it provides a comprehensive, tailored roadmap to studying and working in Europe. By offering personalized support and guidance, job seekers can reach their career objectives efficiently and effectively.
Moreover, the program provides job seekers with access to a range of valuable resources and services that can help them excel in a competitive European job market. This includes personalized mentoring, professional certifications, and legal support throughout the application process.
Lastly, the program helps job seekers build a robust professional network in Europe. By joining Cademix Institute of Technology Austria, job seekers have the opportunity to connect with professionals and experts in their field. This network can significantly boost job opportunities and career advancement in Europe.
Overall, the Career Autopilot Transformer program offers a unique and valuable opportunity for international job seekers. It provides personalized support, valuable resources, services, and the opportunity to build a professional network. So if you're an international job seeker who wants to study and work abroad, there's never been a better time to join the Career Autopilot Transformer program and take your career to the next level.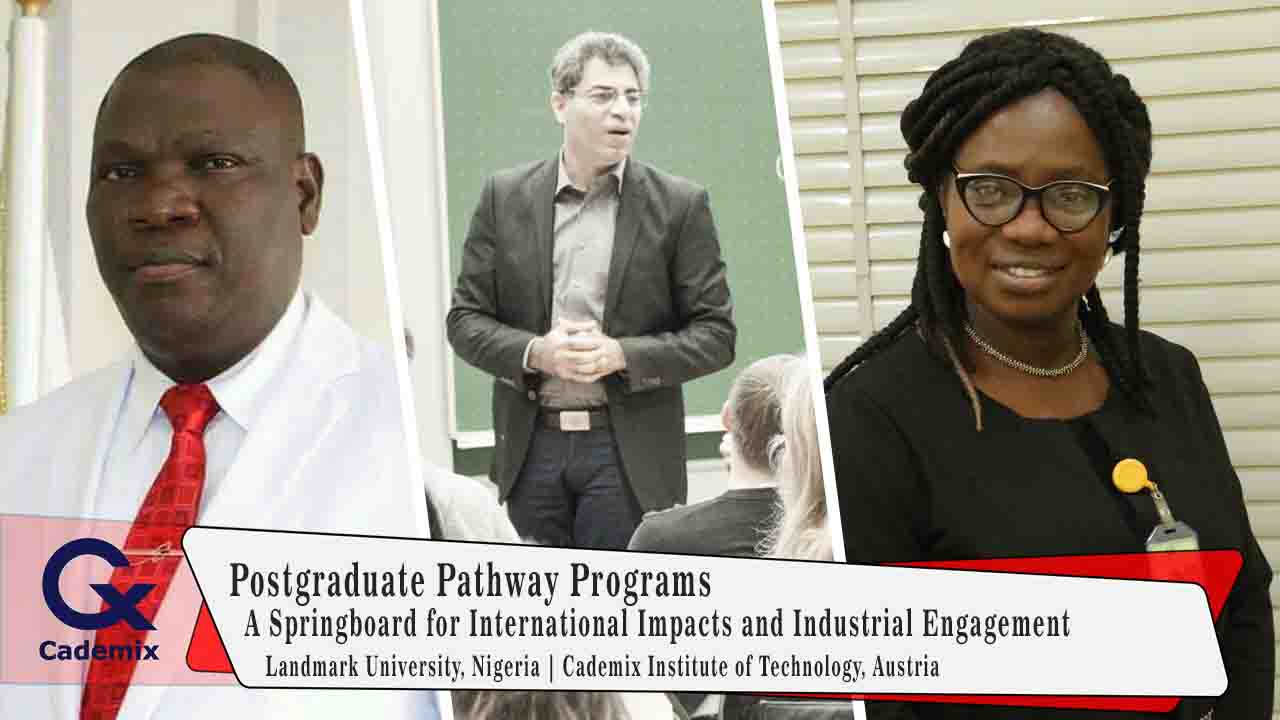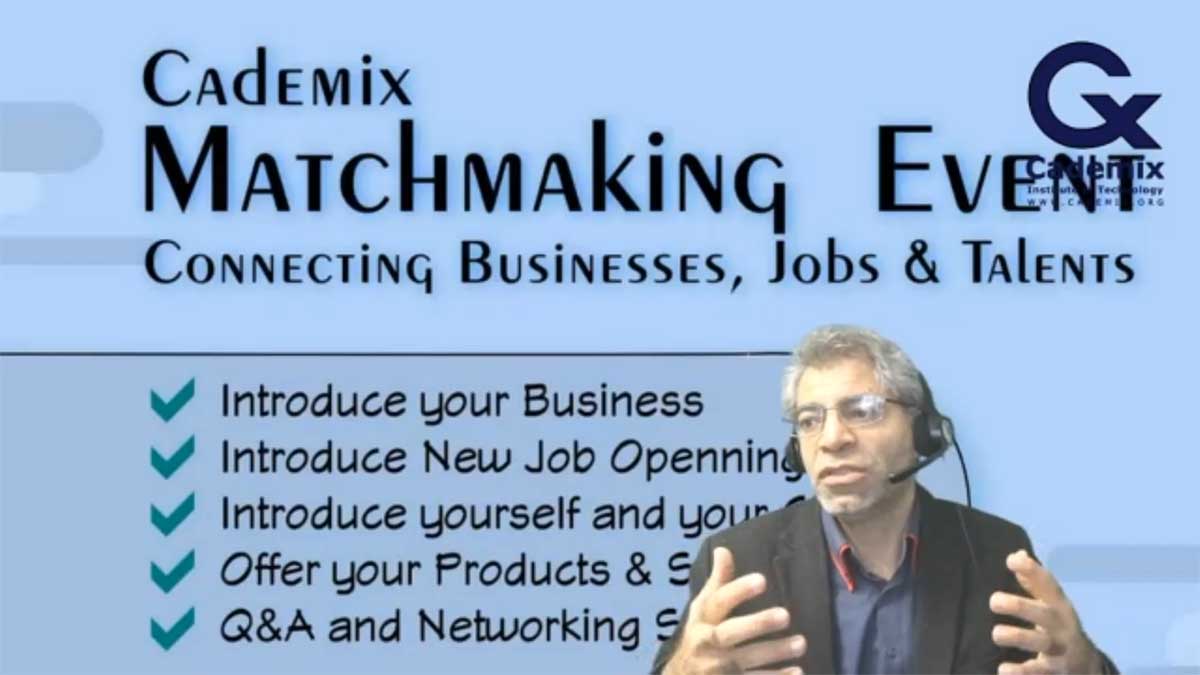 Is it possible to switch careers at any age?
Yes, it is possible. Feel free to submit your CV for a quick review and a few quick coaching.
How does the Cademix Career Autopilot Transformer program assist in changing careers?
The program offers a step-by-step roadmap, personalized mentoring, and professional certifications to help individuals identify their ideal career, acquire necessary skills, and successfully transition to a new job or industry.
Need help changing careers?
Consider the Cademix Career Autopilot Transformer program. It offers personalized guidance and support for a successful career transition.
Does it assist with job placement?
Yes, after completing the Cademix Career Autopilot Transformer program, participants receive job placement assistance to help them secure a suitable position in their new career.
How to start changing careers?
Begin by making an enquiry about the Cademix Career Autopilot Transformer program. You can get started on your career transformation journey.
Can anyone join the program?
Yes, the Cademix Career Autopilot Transformer program is open to individuals of all ages and career stages, providing guidance for career transformation, however you should have already been in a University level.
What support does it offer?
The Cademix Career Autopilot Transformer program provides personalized mentoring, a step-by-step roadmap, and access to relevant courses and workshops to support participants throughout their career change process.