Estimated Reading Time:
2
minutes
Selecting Talent for Fit
 Attracting and selecting qualified talent is the critical first step in the talent management cycle. In order to attract the appropriate applicants and select the candidate with the best fit, you must first identify the required competencies for success. Our consultants can help you clearly define your position's performance expectations, identify critical competencies your candidates should possess, and develop success predictors. Together we will also incorporate your  organizational culture / values and coworker characteristics / personalities, that have a huge impact the applicant's fit. Learn more about the human side of selection and find the talent you need today.
Retention & Development
We help our clients retain productive employees with talent management solutions tailored to their specific organizational circumstances. We develop in-placement and redeployment programs, workplace engagement surveys, executive coaching and competency assessments. Our consultants are highly skilled in assisting organizations to identify employees' pain points, design career development programs and reduce burnout – keys to retaining talent. Learn more about developing talent to thrive with our customized organization program, Create Your Career Consulting Service.
You can't wait forever to get the right employee.
But you can outsource the job to the right people.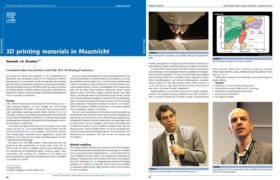 Estimated Reading Time: 21 minutes References: Check out what other say about us, from experiences, projects, collaboration and Testimonials about Cademix Institute...
Read More
Cademix Special offers during Corona Lock-down
For Students and Job-seekers
I think I'm lucky I would say, because I met you very early in 2016, right after two months after coming to Austria and then you guided me well. For one year, we work together. And later on, because of your support I moved to reputed car manufacturing companies, Hispano-Suiza and Magna Steyr, and also I'm getting lots of interview calls… You guided me well, like, now you should learn this and now that, so it was a step by step process as I said before if you have a nice mentor, you can go in a right direction and you can learn a lot. So, that's how I can say.

An important thing is like when you find a person who already you know going through the same situation like you came from Iran, here to study in Austria and then you establish yourself really well. So, when I came in contact with you I asked you lots of questions. Maybe I irritated you with my questions but at the end, it was that you guided me well and this is very important thing. If you find a person as a mentor. So in case you guided me well because you are you are already aware of all these situations. Everything is in your mind. Like how and how should you do this and what should you do next, and what should be your next steps. So you guided me well and that's one important thing. I'm in a good situation and because of your guidance and your directions, or let's say your mentorship.
Make an Appointment (Online or On-Site)
admission@cademix.org   |   info@cademix.org
+ 43 650 967 7080 (Phone / WhatsApp)