Estimated Reading Time:
4
minutes
Welcome to Cademix's Acceleration Program for Makers. This is your special chance. We're all about helping makers like you! Cademix can show off your cool projects in our magazine. We can also help turn your projects into a real business. And if you're an expert in something, we can work together to create an educational program. So, why not join us? There are lots of benefits waiting for you!
This article is provided in both English and German. Feel free to read the sections according to your preference.
Willkommen beim Cademix Beschleunigungsprogramm für Makers. Das ist Ihre besondere Chance. Bei Cademix geht es darum, Makers wie Ihnen zu helfen! Wir können Ihre spannenden Projekte in unserem Magazin präsentieren. Zudem können wir Ihnen dabei helfen, Ihre Projekte in ein echtes Geschäft zu verwandeln. Und wenn Sie Experte in einem bestimmten Bereich sind, können wir gemeinsam ein Bildungsprogramm erstellen. Warum treten Sie uns also nicht bei? Es warten viele Vorteile auf Sie! Dieser Artikel ist in Englisch und Deutsch verfügbar. Lesen Sie die Abschnitte nach Ihrer Präferenz.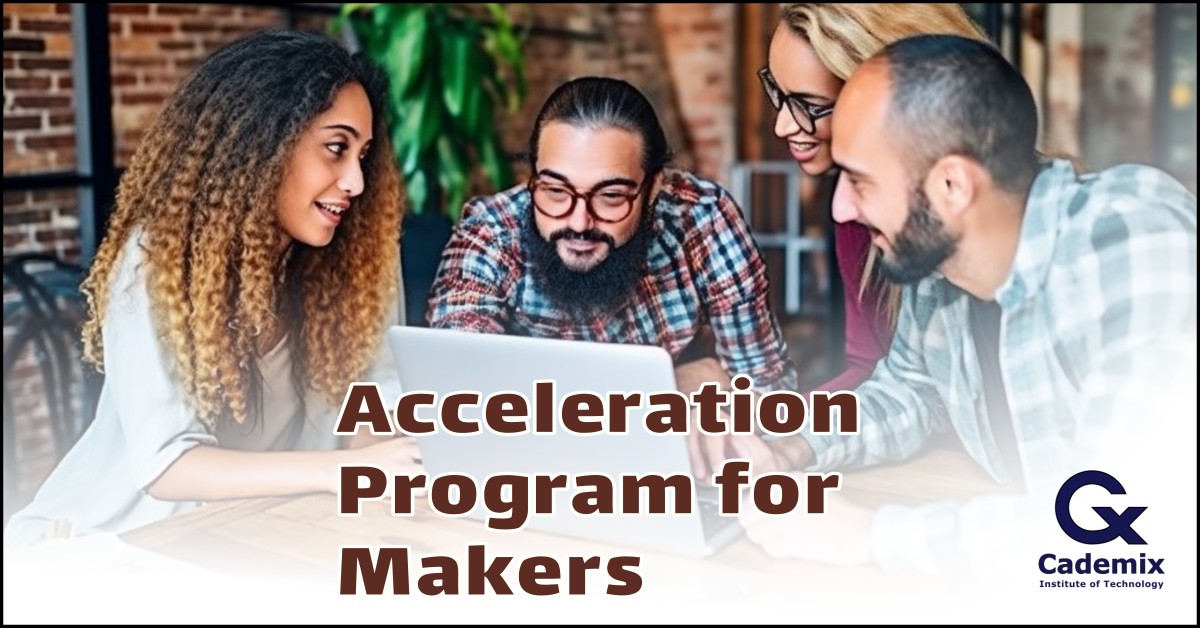 Show Off Your Work in Our Magazine
At Cademix, we value the work of Makers. That's why we want to feature your amazing projects in our Cademix Magazine. It's a great way to let other people see what you've made. You can share your process, your challenges, and your successes. It's not just about showing off – it's about inspiring others with your creativity.
Submitting your project to our magazine is easy. Just send us the details of what you've made, and we'll do the rest. It's a fantastic opportunity to gain recognition and share your unique ideas with a large audience. We can't wait to show the world what you can do!
Präsentieren Sie Ihre Arbeit in unserem Magazin
Bei Cademix schätzen wir die Arbeit der Makers. Deshalb möchten wir Ihre erstaunlichen Projekte in unserem Cademix Magazin vorstellen. Es ist eine großartige Möglichkeit, anderen Menschen zu zeigen, was Sie gemacht haben. Sie können Ihren Prozess, Ihre Herausforderungen und Ihre Erfolge teilen. Es geht nicht nur darum, anzugeben – es geht darum, andere mit Ihrer Kreativität zu inspirieren.
Die Einreichung Ihres Projekts in unser Magazin ist einfach. Senden Sie uns einfach die Details dessen, was Sie gemacht haben, und wir kümmern uns um den Rest. Es ist eine fantastische Gelegenheit, Anerkennung zu erlangen und Ihre einzigartigen Ideen mit einem großen Publikum zu teilen. Wir können es kaum erwarten, der Welt zu zeigen, was Sie können!
Turn Your Project into a Business
Have you ever thought of turning your maker project into a startup? At Cademix, we're more than an institute – we're also a startup incubator. We provide the tools, resources, and mentorship to help you turn your idea into a viable business. Our location outside of city centers offers the advantages of a peaceful environment and significantly lower costs compared to expensive business locations in cities.
As an engineering and consulting office with licenses in IT, engineering, and physics, Cademix can speed up the process of introducing your project into the market. We're open to listen to your business ideas and are ready to help you convert those into a business unit at Cademix Institute of Technology. Come, let's bring your entrepreneurial dream to life!
Verwandeln Sie Ihr Projekt in ein Geschäft
Haben Sie jemals daran gedacht, Ihr Maker-Projekt in ein Startup zu verwandeln? Bei Cademix sind wir mehr als nur ein Institut – wir sind auch ein Startup-Inkubator. Wir bieten die Werkzeuge, Ressourcen und Mentoren, um Ihnen zu helfen, Ihre Idee in ein tragfähiges Geschäft zu verwandeln. Unsere Lage außerhalb von Stadtzentren bietet die Vorteile einer ruhigen Umgebung und erheblich niedrigere Kosten im Vergleich zu teuren Geschäftsstandorten in Städten.
Als Ingenieur- und Beratungsbüro mit Lizenzen in IT, Ingenieurwesen und Physik kann Cademix den Prozess der Einführung Ihres Projekts auf den Markt beschleunigen. Wir sind offen, um Ihre Geschäftsideen zu hören und bereit, Ihnen zu helfen, diese in eine Geschäftseinheit am Cademix Institute of Technology umzuwandeln. Kommen Sie und lassen Sie uns Ihren unternehmerischen Traum verwirklichen!
From Makers to Certified Further Education Programs
Are you a maker who wants to share your knowledge? Cademix offers a special opportunity for you to transfer your expertise into a certified further education program. As an official vocational training institute and partner of the Austrian Department of Labor, we have all the necessary infrastructure to help you develop and deliver a comprehensive educational program.
Our facility includes meeting rooms, workshops, seminar rooms, and a conference hall, perfect for in-person sessions. We also have an established e-learning system for offering online courses. Moreover, we can issue official certifications for participants, adding value to your program. Imagine becoming a lecturer, sharing your knowledge with eager learners, and even sharing profits from the course. Join us, and let's educate the makers of tomorrow, together!
Von Makern bis hin zu zertifizierten Weiterbildungsprogramme
Sind Sie ein Maker, und möchten Sie Ihr Wissen teilen? Cademix bietet Ihnen eine besondere Gelegenheit, Ihre Expertise in ein zertifiziertes Weiterbildungsprogramm zu übertragen. Als offizielles Weiterbildungsinstitut und Partner des österreichischen Arbeitsmarktservice verfügen wir über alle notwendigen Infrastrukturen, um Ihnen bei der Entwicklung und Durchführung eines umfassenden Bildungsprogramms zu helfen.
Unsere Einrichtungen umfassen Besprechungsräume, Werkstätten, Seminarräume und einen Konferenzsaal, ideal für persönliche Sitzungen. Außerdem haben wir ein etabliertes E-Learning-System für Online-Kurse. Darüber hinaus können wir offizielle Zertifikate für Teilnehmer ausstellen, was Ihrem Programm zusätzlichen Wert verleiht. Stellen Sie sich vor, Sie werden Dozent, teilen Ihr Wissen mit eifrigen Lernenden und bekommen Sie sogar den Gewinn aus dem Kurs. Treten Sie uns bei und lassen Sie uns gemeinsam die Makers von morgen ausbilden!