Estimated Reading Time:
5
minutes
Abstract
In this article, we will review the production of lipstick and its necessary equipment. Also, the production of lipstick has been done using natural materials on a laboratory scale and has reached the entrepreneurial stage.
By Maryam Vanaee and Cademix Institute of Technology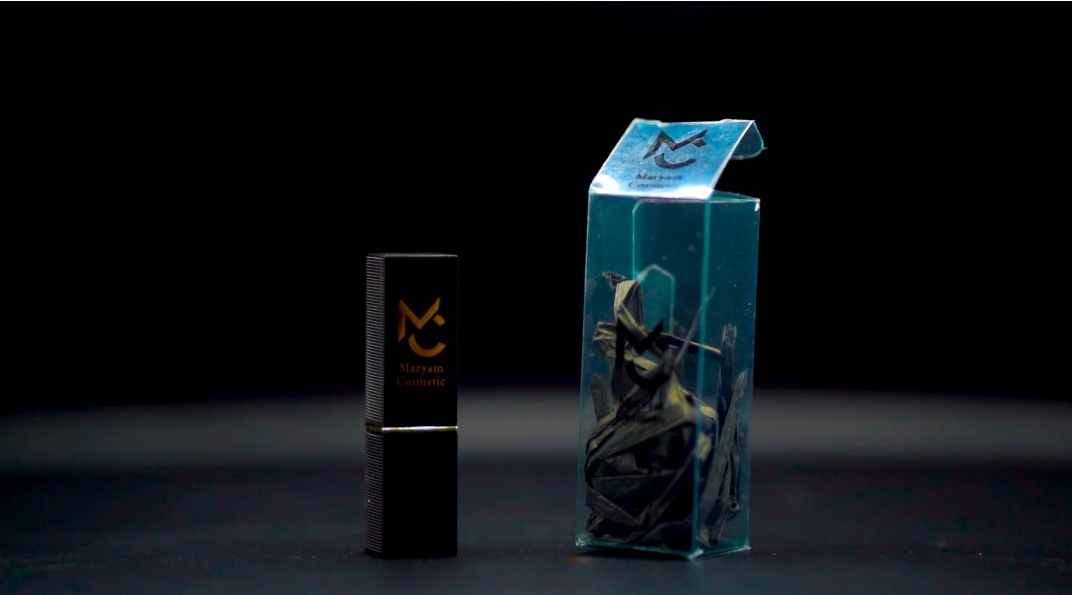 What machines we need for production of Lipstick?
We need some equipment such as: three roller milling machine, Lipstick mixer , Lipstick filling machine , Lipstick freezing tunnel machine , Air blowing type lipstick mold removing machine.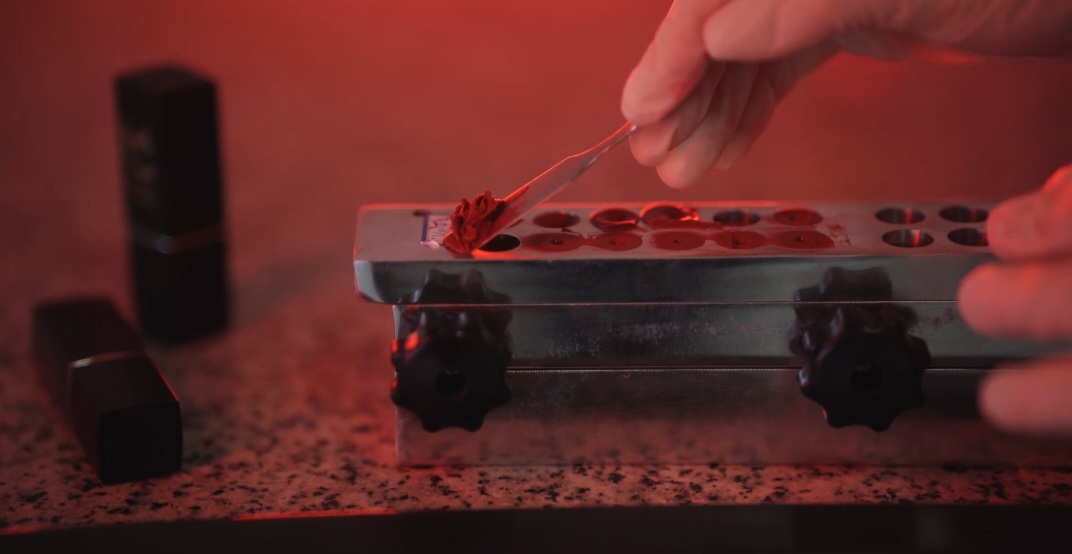 Lipstick Production Line
A three roller milling machine: we can use the three rollers grinding machine for all types of paint, printing ink, lipstick, pigment, coating paint, plastic paste, and so on. Industry use high final fineness for high viscosity materials or poorly flowing pastes. Particularly suitable for grinding the product, which has a high dispersion and fine particle size requirement.
A lipstick mixer: Mixing different types of raw materials and dissolving them during liquid production can reduce energy consumption and shorten production time.
Lipstick filling machine: It has two model: manual and auto models.
Lipstick freezing tunnel machine: we have to made the stainless steel machine. The double temperature drop reduces cold air loss, and the double door seal compensates for the lack of body sealing performance.
Air blowing type lipstick mold: This machine is intended for auxiliary lipstick stripping from the mould.
Raw Materials in production of Lipstick
Lipstick's primary ingredients are wax, oil, alcohol, and pigment.
Wax: The wax used is usually a combination of three types: Beeswax, Candelilla wax, and the more expensive Carnuba wax. We use wax to help a good mixture. This mixture formed the easily recognizable shape of the cosmetic.
Mineral, caster, lanolin, and vegetable oils.
Fragrance and pigment.
Preservatives and antioxidants to keep lipstick from becoming rancid.
A variety of other ingredients such as: smoother, glossier, or to moisten the lips.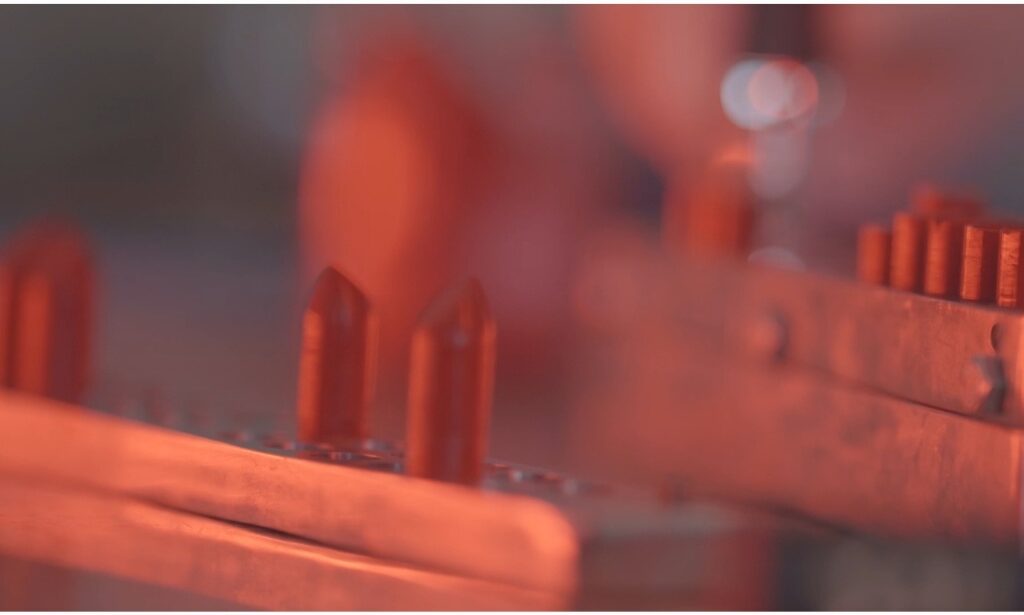 What ingredients are in natural lipsticks?
We use plant-based material in natural lipstick. ultra-hydrating, and safe for your lips and body. They are as follows:
For soft, supple lips, use organic waxes, oils, and plant butters such as Beeswax, Cocoa butter, Avocado butter, and Coconut oil. Preservatives that are safe to use, such as rosemary or elderberry extract, vitamin E, and jojoba esters.
We can use fruit pigments such as berries, plums, pomegranates, and other fruity delights.
Flavorings and scents that are non-toxic, such as vanilla and fruit extracts.
What are the potentially harmful ingredients in traditional lipstick?

Conventional lipstick contains a slew of heinous ingredients, including:
Carmine is a red colorant. Tallow is a type of rendered animal fat. Colorants beginning with "Ci," "Red," "Blue," "Yellow," "Violet," and "Green" contain heavy metals such as lead, nickel, arsenic, aluminum, and cadmium. Mineral and petroleum oils, which can cause inflammation and allergies. Harmful preservatives such as BHA and BHT

The Manufacturing Process
At the first time we melted The various raw ingredients separately. After that we add the oils and solvents to the wax and other ingredient. In general, wax and oil account for approximately 60% of the lipstick (by weight), with alcohol and pigment accounting for the remaining 25%. (by weight). We can add fragrance lipstick, less than 1% of the total. In general, the production process includes the following:
Melting and mixing
Molding
labeling and packaging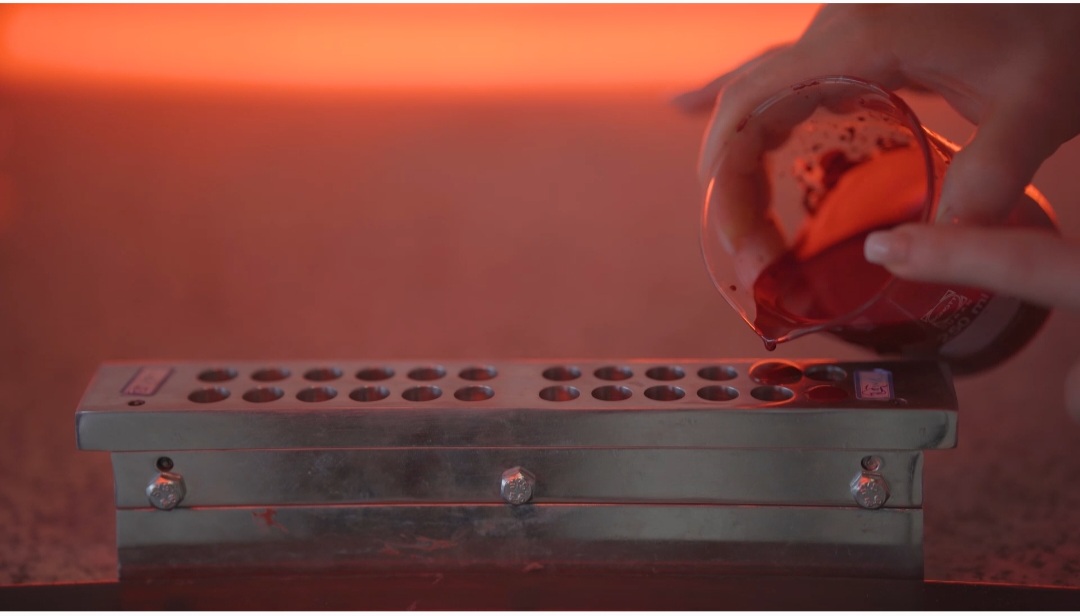 Quality Control
Because the product must meet Food and Drug Administration (FDA) standards, quality control procedures are stringent. Lipstick is the only cosmetic consumed, and as a result, strict controls on ingredients and manufacturing processes are in place. We mix Lipstick in a sterile environment to ensure that it is free of contamination. Experts test Incoming material to ensure that it meets the requirements. To maintain batch control, we save and store samples of every batch produced at room temperature for the life of the product (and often beyond).
Lipstick undergoes two special tests: the Heat Test and the Rupture Test. Worker place the lipstick in an extended position in a holder and placed in a constant temperature oven of over 130 degrees Fahrenheit (54 degrees Celsius) for 24 hours in the Heat Test. The lipstick should not be drooping or distorted. Worker place the lipstick is placed in two holders in the extended position for the Rupture Test. At 30-second intervals, weight is added to the holder on the lipstick portion until the lipstick ruptures. The pressure required to rupture the lipstick is then compared to the manufacturer's specifications. Due to the lack of industry standards for these tests, each manufacturer establishes its own parameters.
The idea of self-employment
For several years, I worked in the chemical research and development department. During this time, I've realized my strengths in teamwork, discipline, hard work to achieve results, and leadership. As a result, I decided to work on my own project. I began studying and producing organic lipsticks because I am very interested in the production of cosmetics. Meanwhile, I faced numerous challenges, and with my perseverance and knowledge, I was able to create a lipstick with acceptable properties. I am very hopeful that I will be able to scale up this production and create jobs.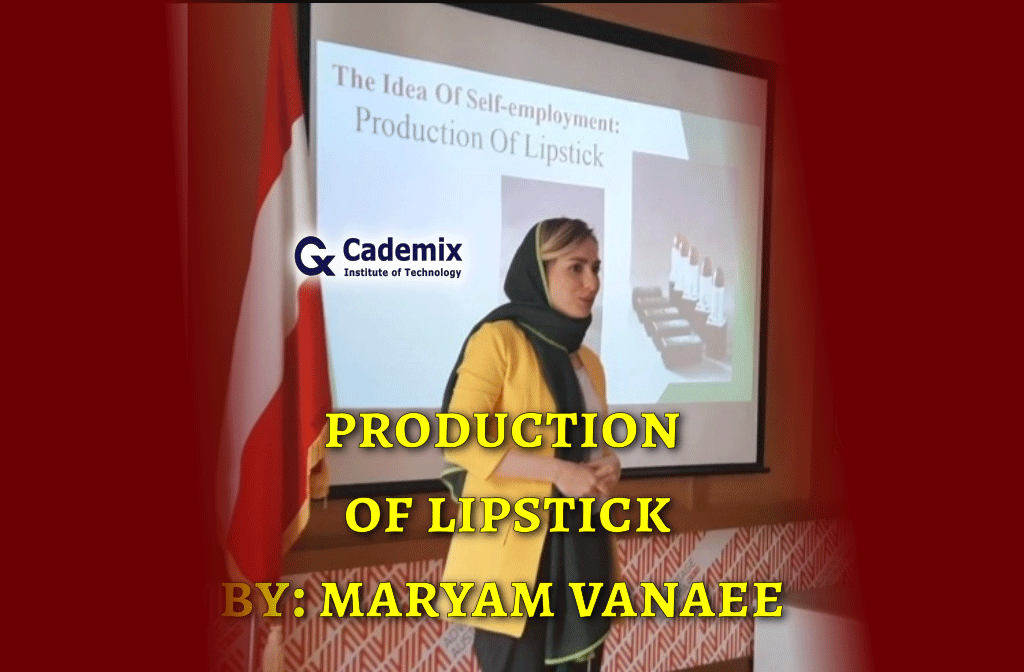 keywords related to production of lipstick
Lipstick,Lip balm, Production of lipstick, Wax, Carnuba, Caster oil, Production, Cosmetic, Natural material, Organic Lipstick, Quality control, Synthetic Substances, Fatty, Balm, Moisturizing, Hydration, Emollient, Vitamins, Lip balm, Natural ingredients, Care products, Cosmetic products,Tinted, Fragrances, Shea-butter, Essential oils, Antioxidant, Cosmetic products, Nourishing, Matte, Cleansing, Cruelty-free, Formulas, Sunscreen, Seed Aloe oil, Long-lasting, Lipstick mixer , Lipstick filling machine , Lipstick freezing tunnel machine , Air blowing lipstick,
About the authors
Maryam Vanaee with a master's degree in chemistry in 2017 and immediately entered the related job market. She has worked as a director of research and development at a private chemical company. Maryam Vanaee wrote a several article such as pectin extraction review , superabsorbent polymer review, Pectin In Jam… She is also a member of Cademix Career Autopilot program – the acceleration program, and open to new opportunities. Please feel free to contact her:
WhatsApp:+98 0937 908 0089
Email address: maryam1370.vanaee@gmail.com
LinkedIn account: maryam.vanaee