Estimated Reading Time:
6
minutes
Intralogistics Solutions and Automation, future technologies and review of some big players using the technology. Read more in this article.
By Anil Kumar, Cademix Institute of Technology
About Logistics
According to Cambridge dictionary, Logistics is the careful organization of a complicated activity so that it happens in a successful and effective way. Logistics is the management of the movement of goods between the point of origin and the point of consumption. We use logistics to fulfill the needs of consumers or companies in a broad sense. In logistics, we manage physical commodities such as materials, equipment, and supplies, as well as food and other consumable things.
Both Supply chain management and supply chain engineering include logistics management They involve planning, implementing, and monitoring the efficient, effective forward and reverse movement of products, services, and related data. They span between the place of origin and the point of consumption to fulfill the needs of the client. We can employ dedicated simulation software and models, to evaluate, to visualize, and to optimize the complexity of logistics. In all logistics areas, minimizing the use of resources is a common objective. A logistician is a professional who works in the field of logistics management.
Intralogistics
There is no unique definition for Intralogistics. Industries around the world define the term according to their own interest and visions.
As per Invata.com : Intralogistics is the art of optimizing, integrating, automating, and managing the logistical flow of information and material goods within the walls of a fulfillment or distribution center.
According to Wikipedia, the Intralogistics is the management and optimization of internal production and distribution processes –
Intralogistics controls material flow between different plant areas – from incoming goods to warehouse, production areas and final assembly to order picking and shipping. – Balluf
Wynright defines intralogistics as "every dimension of logistics within the four walls related to implementing, managing, monitoring and optimizing materials handling and information flows."
Therefore, Intralogistics means the process of optimizing, integrating, automating, and managing all of the logistical physical flows of supply, production and distribution within a distribution or fulfilment center. Additionally, the company integrates information processing with latest software, to improve the material handling technology. It further improves the efficiency in terms of supply chain and intralogistics.
Automation in Intralogistics
There are numerous challenges in modern intralogistics. First, online retail and individualized mass production result in ever-increasing quantities and fragmented processes. We require a prefect structure in order to achieve the demands.
A thorough grasp of all intralogistics processes, from receiving items through storage and production supplies, as well as dispatch. Therefore, it is essential to understand material flow in intralogistics processes. Addition to that,  Intelligent automation, from the individual process step to the entire material flow, is a critical component of effective process design.
Automation can be a key component in optimizing internal material flows in a complete way. Automated industrial vehicles are especially useful in situations where transport and storage operations must be repeated on a regular basis.
We know Logistics automation, or equivalently the use of computer software's to improve the efficiency of logistics operations. Typically, this refers to operations within a warehouse or distribution center, with supply chain engineering and enterprise resource planning systems handling broader responsibilities.
Advantage of Automation in Intralogistics
Simple and Flexible
The automation solutions are simple to set up, integrate into existing infrastructure. Therefore, we can simply change them in a variety of ways.
Integrable
The standardized software ensures that the systems work together seamlessly. Subsequently, the trucks are simple to integrate with other applications and can operate manually or automatically.
Scalable
The automation solutions are a standardized system. They can be expanded or altered progressively to provide individual and full solutions. Furthermore, it is simple to add new routes or stations.
Cost Effective
Increased production around the clock, a low rate of errors and accidents, which results decrease in cost.
Steps in Customer´s Automation
First and foremost, the provider must comprehend your organization, the logistical flow on your premises, and your primary difficulties .
The second phase is what we refer to as the optimisation phase, because you don't want to "automate the fat," as we refer to it. According to the Kaizen philosophy, you should optimize the processes first, before making them automated (continuous improvement).
Finally, there is the realization that while each consumer is unique, everyone should be provided with the greatest possible solution: the synergy of human and machine benefits. Therefore, we can build a solution around a customizable portfolio adapted to your specific requirements: step-by-step automation.
Big Players using Intralogistics Automation
DEMATIC GMBH
https://www.dematic.com/en/solutions/solutions-by-function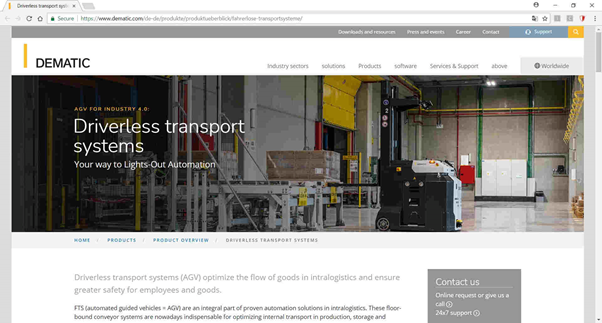 DEMATIC optimizes the supply chain problems by using modern technologies. Furthermore, the modern software technologies, maximizes the operations and increases efficiencies in the Appral, Manufacturing, Food & Beverage, General Merchandise Retail, E-commerce, Grocery, Healthcare, Parcel, Wholesales/B2B, Non-Durable Manufacturing, and Third-Party Logistics areas.
Dematic Design, Build and provides intralogistics solutions by optimising supply chain. In contrast, performance optimizing software helps in visibility of materials from receiving to shipping and provides automated materials flow between different operations. Therefore, automated vehicles reduce the cycle time and improve the productivity and efficiency.
BALLUFF GMBH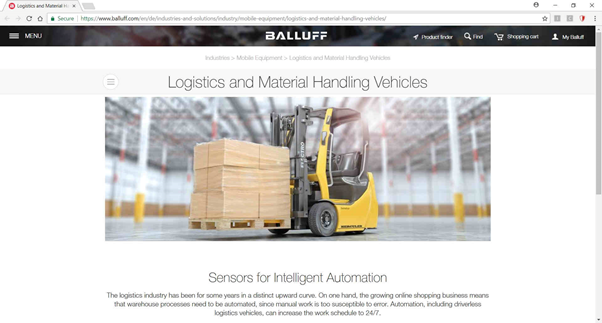 BALLUFF provides sensors, RFID, Machine visions technologies along with different software's. Hence, the developed technologies improve the automation by using sensor, RFID, Machine visions and other software's. As a result, the object recognition, position measurement and fluid measurement in done by using all these technologies. Furthermore, the sensors do the monitoring of machines and plants, and detects the temperature in wide range of applications. In conclusion, It improves the efficiency and productivity by measuring the wear free position in pneumatic, hydraulic cylinders, direction, positioning and control in automation technology.
BALLUFF sensor technology provides solutions in in following areas.
Automobile Industry and Sppliees.
Packaging, Foods, Beverage, Pharmaceutical and Cosmetics.
Steel and Metallurgical Industry
BVL GMBH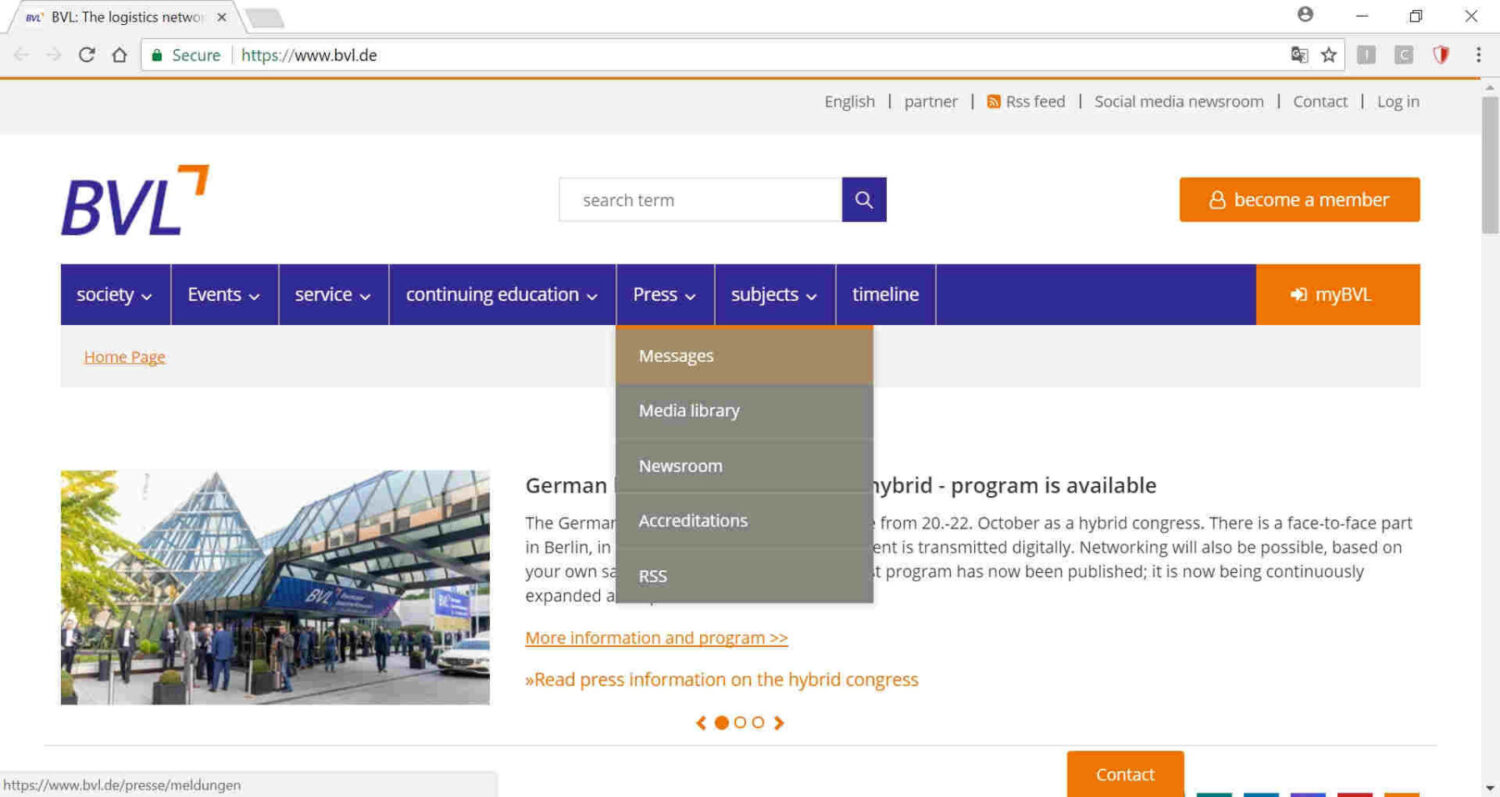 BVL's main goal is to raise awareness of the importance of supply chain management and logistics, as well as to promote their use and development. The BVL provides the solutions in the areas of the following automation sectors by using sensors, actuators, electric drives and pneumatics.
Digitization of Transport logistics
Spare part management
Digital warehouse
Controlling logistics 4.0
Logistics real estate
Consumer good logistics
Future of Intralogistics
In the business sector, digital transformation entails rearranging the deck and setting new rules. One specific keyword is this direction is the Industry 4.0. It is also true in intralogistics, which is moving away from huge, rigid systems and toward modular, adaptable, and software-driven solutions. – self-optimizing and robot-assisted. It's safe to expect that advancements in the field of autonomous vehicles will continue, both in terms of practical applications and "swarm intelligence." Rapid advances in sensor technology, picture acquisition, and processing will have a significant impact on order picking. For instance, AGV-assisted robots will be able to handle crates, allowing for more flexibility in process and warehouse layout design. Above all, IT plays a crucial role behind the scenes. AI will increasingly shape IT procedures as well as operational activities, thanks to new algorithms and higher processing capacity. It will allow for more automation and reduce employee stress.
References
Keywords Related to Intralogistics
Some Keyword are Intralogisctic, Automation, Supply chain Management, Warehousing, Warehouses, Warehouse management, Order fulfillment, Inventory management, Management systems, Transportation management, End-to-end, Procurement, Management system, Shipment. In addition, we have Inbound, Management software, Pallet, Supply chain solutions, Reverse logistics, Global supply, Order-processing, Outbound, Business-processes.
Other keywords include Outsourcing, Inventory control, Global supply chain, Supply chain and logistics, Logistics solutions, Transportation and logistics, Logistic, Warehouse management system, Ecommerce, Logistics and supply chain, Replenishment, Supply chains, Warehouse space, ERP, Value added, To customers