Estimated Reading Time:
7
minutes
The Cademix Accelerator Program offers four diverse payment plans, each thoughtfully designed to meet the different needs of our participants. For individuals looking to shift careers, launch a startup, directly enter the European job market, or immigrate, these flexible payment options provide accessible and cost-effective ways to finance their ambitions. The information on this page is uniformly applicable to all long term options within the Cademix Career Acceleration Programs – Regular, Plus, Business, and Transformer.
Payment Plan 1: Stage-Based Payment Plan
The stage-based payment plan is designed for those who prefer a structured payment approach. This plan includes four stages:
Upfront Payment: 10% of the base price, payable at the start or early stages of the Cademix program.
Installments During the Program: 30% of the base price, payable as candidates make progress through the Cademix program, typically up until they receive their first major milestone such as the job interview.
Visa or Immigration Stage: 30% of the base price, due after individuals receive a university admission, or have migrated to the destination country or during the visa procurement stage.
Job Offer Stage: 30% of the base price, payable upon receiving a job offer and securing income in the new position.
The payment amounts at each stage may be reduced by multiple discounts granted for the Cademix Community Service contributions and program referrals, directly benefiting active and engaged participants.
The "Stealth Mode" option is also available in the Stage-Based Payment Plan for those who wish to keep their participation in the accelerator program confidential. Using this option is not recommended for many applicants, as it may reduce your visibility and thus slow down your progress. However, there may be understandable circumstances where you might be motivated to use this option for personal or professional security reasons. By opting for "Stealth Mode," your membership in the accelerator will not be publicly announced, and your activities will remain completely confidential.
This stage-based payment approach provides a defined and predetermined payment schedule for interested parties, allowing them to make stage payments as they reach specific milestones and intermediate goals, making it a suitable option for many applicants of the Cademix Accelerator Program.
It is important to note that in certain situations, stages 3 and 4 may occur simultaneously. For example, if an applicant enters Europe from a non-EU country and immediately receives a job offer with a salary, the payment for both stages is combined. In such cases, a 60% payment of the base price is anticipated, covering both the visa or immigration stage and the job offer stage. This flexibility ensures that the payment plan can adapt to the unique situations that different applicants may encounter, aligning with the realities of each individual's immigration and employment process.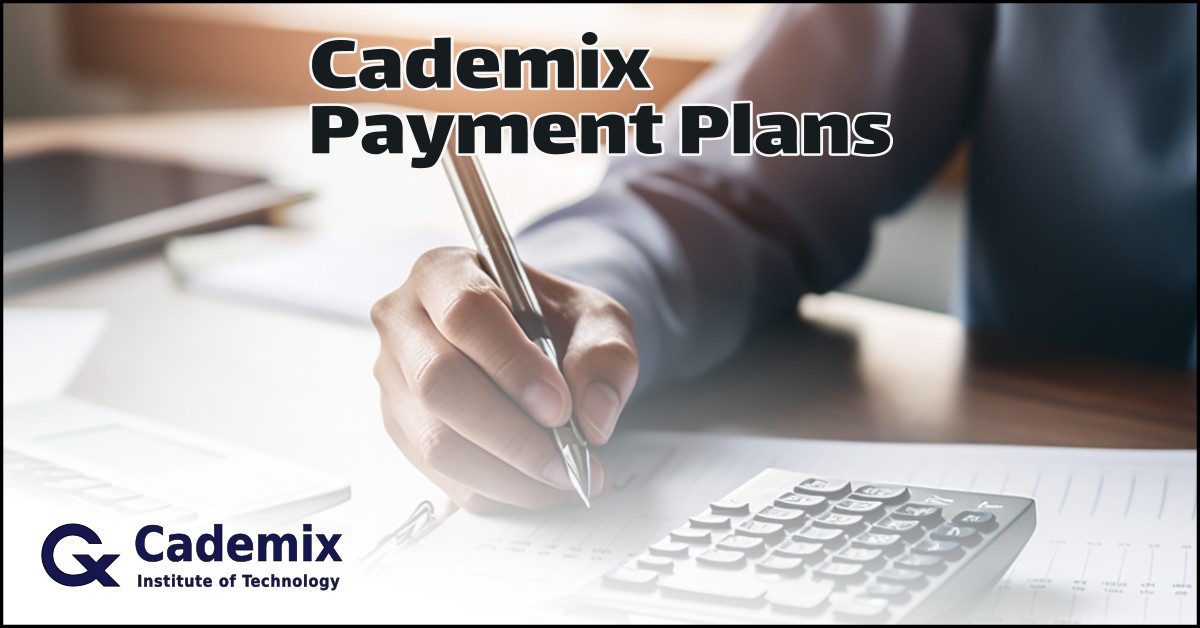 Plan 2: Membership + 5% Plan
The Membership Plan Plus 5% at Cademix is structured to offer sustained support throughout various career paths. Whether your interest lies in technical pathways, advanced education programs, career acceleration programs, university and study accelerators, or business and startup accelerators, this plan is tailored to your individual needs.
With a monthly tuition equivalent to 5% of the base price) of the chosen program ( = 5 % of the total payable amount in Stage-Based Payment Plan), you gain access to the necessary resources and support to advance in your field. The base price refers to standard prices associated with individual programs at Cademix, detailed on the Cademix Career Autopilot page. Through an agreement, applicants—and businesses engaging in the acceleration program—pledge to allocate 5% of their gross monthly income or business revenue to Cademix for a period of ten years.
The 5% arrangement is crafted not only as a fair contribution but also as an investment in the effectiveness of ongoing support. Included in this offer is the provision for members to request a monthly mentoring session with their designated mentor over the ten-year span. This element of sustained guidance and support from Cademix underpins the smart, long-term investment in professional growth, emphasizing the value of having a consistent, supportive mentor and organization at one's side.
This plan also encompasses an 'Stealth mode' option, allowing for confidential participation and incentives for community service involvement. Participation in community service activities can lead to increased motivation and enrich your overall experience with the Cademix community.
Designed for flexibility, the Membership Plan accommodates various career objectives and financial situations. By aligning tuition costs with the specific program selected, it ensures that the dedicated expense is congruent with the value and goals of your individual career progression path. Whether you're transitioning careers, opting for an educational accelerator, or embarking on company establishment and investment, the Membership Plan is a structured yet adaptable way to invest in your success.
Plan 3: Goal-Oriented Payment Plan (The 10% Plan)
The Goal-Oriented Payment Plan is designed with your achievements in mind. You pay nothing upfront and nothing throughout the program, instead, you agree to allocate 10% of your gross income for a decade after you join Cademix Acceleration Program or from the time you get a first job. This equates to paying one year of your future average salary. It's a fair deal, considering joining the Cademix program can advance your career by years. Please note that the "invisible mode" and confidential membership are typically not available in this option. This means you will openly discuss your success path at the Cademix accelerator, to motivate others as well.
This plan is particularly suitable for two groups: First, highly talented and motivated individuals from low-income backgrounds. Second, those who want to ensure they achieve specific goals. With success-contingent payments, this plan reduces financial worry and helps you focus on achieving your career objectives. A commitment of at least 20 to 30 productive hours per week is required for this plan; notably, 30% of the allocated time must be dedicated to Cademix Community Service (CCS), including Cademix volunteer activities, project participation, services, and aiding other members, or promotional activities for Cademix. Weekly reporting in the Goal-Oriented Payment Plan (The 10% Plan) is mandatory to ensure and continue membership at Cademix.
The rules of this plan are clear; weekly reporting and community service are required. This helps you stay committed to your success. The plan is more than a payment method. It's a commitment and participation in reaching your clear and realistic goals. By focusing on your objectives, the Goal-Oriented Payment Plan assists many people (those needing financial aid and those pursuing their goals). It's Cademix's way of helping appreciative and committed individuals find their path to success more comfortably.
Furthermore, participating in the Cademix accelerator is not merely about academic, career, or business advancement; it also involves a serious commitment. In the 10% plan, you must dedicate at least one-third of your time to community service, benefiting both you and your peers in the Cademix community. This not only gives you the chance to improve and expand your skills but also to work on your social connections. In this process, you not only contribute to your personal development but also to the improvement and advancement of the Cademix community and those who share your path.
Your contribution can take various forms: from teaching and consulting to enhancing educational content, promotion, and even voluntary activities. You or even your family members can provide these contributions indirectly, leading to the creation of a dynamic and supportive community.
The 10% plan at our accelerator is designed with the expectation that participants will engage in community service in a visible manner. However, we recognize there are exceptional individuals with serious reasons for requiring an invisible or private approach, referred to as "stealth mode." Our stance on this is uncompromising: those who wish to operate in stealth mode within the program must provide a clear justification for their need for privacy. Additionally, they are required to make an upfront security payment. This payment is essential to ensure their dedication and to support the additional mentorship and communication efforts that stealth mode entails. Thus, we balance the intrinsic public nature of community service with the possibility of stealth participation, ensuring that our commitment to the collective benefit of the program is preserved.
Plan 4: Customized Hybrid Plan
The Custom Combination Plan is designed for those interested in blending several available plans to their advantage. This flexible option permits participants to select a mixed payment plan, integrating elements from the first three options to total 100%. For simplicity in structuring their payments, participants are encouraged to consider combinations like an equal 50-50 split between the Staged Payment Plan and the Membership + %5 Plan.
Conclusion
With four diverse payment strategies, the Cademix Accelerator Program meets the broad needs of its diverse participants and their financial situations. Introducing the Custom Combination Plan allows participants to tailor a payment arrangement that aligns precisely with their individual objectives and preferences. From privacy choices to social service motivations, Cademix offers pathways to success that are both reachable and cost-effective, while promoting a constructive and engaged community. Whether a Cademix member is carving out a new career path, initiating a startup, or stepping into the job market, this payment option provides the necessary versatility and support to foster their progress.
The Cademix Accelerator Program, with its array of payment plans, accommodates a wide range of customer needs and financial backgrounds. The customizable nature of the Custom Combination Plan ensures that participants can put together a distinct and personalized payment scheme that fully aligns with their goals and preferences. From options that respect personal privacy to incentives for community involvement, Cademix paves the way to success, which not only makes it within reach and affordable but also cultivates a community that is positive, dedicated, and grateful.