Estimated Reading Time:
8
minutes
Moving to a new country to study is an exciting and enriching experience. If you're an international student coming from outside of the European Union (EU), such as Africa, India, China, or Iran, and planning to study in Austria, one of the first things you'll need to consider is accommodation. This article provides an overview of the different types of accommodations available, the costs, and other relevant factors to consider when renting a dorm or apartment in Austria. Here is a must read article about Student Accommodation in Austria: A Comprehensive Guide for International Students.
Types of Student Accommodation in Austria
Student Dormitories
Student dormitories, also known as student residences or student halls, are typically the most affordable option. They are usually situated close to universities and come furnished, with shared amenities such as kitchens, bathrooms, and study rooms. They offer a great opportunity to meet fellow students and immerse oneself in the student culture.
Private Apartments
Renting a private apartment can be a suitable choice if you prefer more privacy and independence. You can find apartments ranging from studio flats to larger multi-bedroom units. Costs for private apartments are generally higher than student dorms and you may need to furnish the apartment yourself.
Shared Apartments (Wohngemeinschaft or WG)
In a WG, you share an apartment with other students. Each person has their own room but shares common areas like the kitchen and bathroom. This is a popular choice among students as it is more affordable than a private apartment and provides a communal living experience.
Homestay
Some students choose to live with a local family in their home. This option provides a unique cultural experience and can help with language immersion.
Typical Cost of Living for Student Accommodation in Austria
Accommodation costs in Austria can vary greatly depending on the type of accommodation, location, and size. In general, larger cities like Vienna, Salzburg, and Graz are more expensive than smaller cities or towns. A room in a student dormitory can range from 250 to 400 euros per month, while a private apartment can cost anywhere from 500 to 1,000 euros per month or more. Keep in mind that these are just estimates, and actual prices may vary.
In addition to rent, there are other costs to consider. These include utility bills (water, gas, electricity), internet, and building maintenance fees. It's crucial to clarify with your landlord what costs are included in the rent and what aren't.
Rental Contracts and Other Considerations
When renting accommodation in Austria, you'll likely need to sign a rental contract (Mietvertrag). This document stipulates the terms and conditions of your stay, including the duration of the contract, the cost of rent, the notice period, and other obligations.
Before moving in, you may be required to pay a security deposit (Kaution), usually equivalent to one to three months' rent. This deposit is returned to you when you move out, provided you leave the apartment in the same condition as when you moved in.
You should carefully read and understand the rental contract before signing. It's also recommended to have a German-speaking friend or a legal advisor review the contract. Some useful German phrases related to housing include:
Miete (Rent)
Nebenkosten (Additional costs/Utilities)
Kaution (Security deposit)
Kündigungsfrist (Notice period)
Wohngemeinschaft (Shared apartment)
Mietvertrag (Rental contract)
Maklerprovision (Brokerage fee)
Living in Austria offers an incredible opportunity to experience a new culture, gain a world-class education, and make lifelong friendships. With careful planning and consideration, finding the right accommodation can contribute significantly to a rewarding study abroad experience. Remember, while city life can be more expensive, it can also offer more opportunities.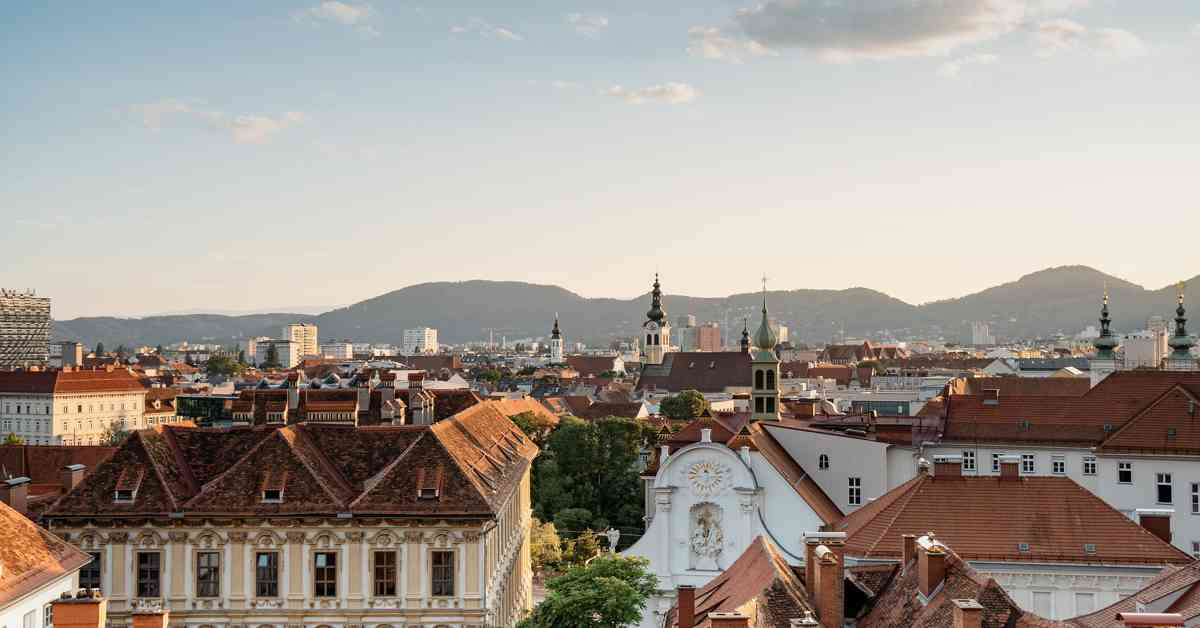 Moving to the City vs. the Countryside
The decision between living in a bustling city or a serene countryside should be influenced by a combination of factors, primarily including your personal lifestyle preferences, study requirements, and budget.
City Life
Living in a larger city in Austria such as Vienna or Salzburg can be more expensive in terms of rent and cost of living. However, these cities provide a range of options when it comes to accommodations, restaurants, entertainment, and other amenities. The transportation infrastructure is robust, allowing you to get around easily even without a private vehicle. City life can be vibrant and bustling with plenty of opportunities to socialize and network.
Countryside Living
On the other hand, accommodations in the countryside or in smaller towns are typically less expensive. Living here can provide a tranquil environment conducive to study, and the opportunity to experience the natural beauty of Austria. However, keep in mind that commuting might be challenging if you don't have a private car and public transportation services are less frequent compared to the city.
Understanding the Language
One of the critical aspects of living in Austria is understanding the language. Although many Austrians speak English, especially in the cities, it's beneficial to learn some German for everyday life and particularly when dealing with housing. Here are some additional useful phrases related to renting:
Wohnfläche (Living space)
Mietdauer (Rental duration)
Mietzins (Rent payment)
Haustiere erlaubt (Pets allowed)
Möbliert (Furnished)
Heizung (Heating)
Strom (Electricity)
Additionally, certain abbreviations are often used in housing advertisements. Some of these include:
ZKDB: Zimmer, Küche, Diele, Bad (Room, Kitchen, Hallway, Bathroom)
EBK: Einbauküche (Fitted kitchen)
WM: Waschmaschine (Washing machine)
TG: Tiefgarage (Underground parking)
Prominent Student Dormitory Providers in Austria
1. OeAD Housing Office
The OeAD Housing Office provides accommodation for international students and researchers in Austria. They offer fully furnished rooms and apartments in Vienna, Graz, Salzburg, Innsbruck, Linz, and Klagenfurt. All accommodation units are well-equipped with modern amenities to ensure a comfortable stay.
Website: https://housing.oead.at/
2. home4students
home4students operates several student residences across Austria. They provide reasonably priced accommodations that are both comfortable and conveniently located. Their residences often include common rooms and study areas to facilitate social interaction and learning.
Website: https://www.home4students.at/en/
3. STUWO Studentenwohnheimbetriebsgesellschaft
STUWO runs student dormitories in various Austrian cities including Vienna, Graz, Klagenfurt, and Krems. Their dorms are modern, safe, and designed to offer a conducive learning environment. They offer both single and shared rooms, equipped with high-speed internet and other necessary facilities.
Website: https://www.stuwo.at/en/
4. Akademikerhilfe
Akademikerhilfe is a non-profit association that operates student residences in several Austrian cities. They provide affordable housing to students, offering a variety of room types to cater to different needs. Their dormitories are centrally located and come with communal areas like kitchens, study rooms, and recreational facilities.
Website: https://www.akademikerhilfe.at/
5. Milestone
Milestone specializes in premium student apartments. They offer fully furnished apartments with individual and flexible rental agreements. While they are a bit more expensive, they provide a high standard of living with numerous services and facilities like fitness rooms, study lounges, and even event spaces.
Website: https://www.milestone.net/
Remember to research thoroughly and choose the housing option that best fits your needs and budget. Many of these providers have a high demand, so it's recommended to apply early.
Essential Tips Before Signing a Rental Contract in Austria
Signing a rental contract is a significant commitment, especially when moving abroad for studies. Here are some key points international students should consider before signing a rental agreement in Austria:
Understand the Cancellation Policy
Always review the cancellation policy before signing the contract. Some rental agreements may have strict policies, where you're required to pay for a certain period even if you cancel the contract early.
Additional Charges
Typically, the rent does not cover all expenses. Additional charges might include utilities, internet, building maintenance fees, and sometimes, even administrative charges. Ensure you understand all the costs involved before signing the contract.
Payment Start Date
Some rental contracts may require you to start paying rent from the contract start date, even if you have not yet moved in. This could be the case even if you are still waiting for your visa to be issued. Make sure you understand the payment start date and negotiate if necessary.
Get Support for Student Accommodation in Austria
Consider getting assistance from a mentor or support organization, like Cademix Career Acceleration Programs, especially if you're not familiar with the German language or the Austrian legal system. They can help review the contract, ensure there are no hidden costs or unfavorable terms, and negotiate with the landlord or rental institution if necessary.
Guest Policy
If you plan to have friends or family visit during your stay, make sure the rental agreement allows for occasional guests. Some contracts may have strict rules about guests, so it's important to clarify this beforehand.
Other Tips
Rental Duration: Understand the minimum and maximum rental duration. Some contracts may require a minimum stay of one year.
Damage Deposit: You will likely need to pay a damage deposit (Kaution) which is usually one to three months' rent. Ensure you have this amount saved up.
Insurance: Check if the contract requires you to have liability insurance (Haftpflichtversicherung) which covers accidental damage to the property.
Condition of the Property: It's recommended to inspect the property before moving in, if possible. Note down any pre-existing damages to ensure you're not held responsible later.
Remember, it's essential to read and understand all aspects of the rental contract before signing. When in doubt, don't hesitate to ask questions or seek legal advice. It's better to take the time to understand the contract now than to face misunderstandings or issues later.
Conclusion
Securing the right accommodation is a significant step towards a rewarding study experience in Austria. The process involves careful consideration of various options, understanding the costs involved, and being aware of the terms and conditions of rental agreements. Proficiency in the German language can be advantageous, particularly when dealing with legal documents like rental contracts.
Remember, your budget, lifestyle preferences, and study requirements should guide your accommodation choice. Living in a new country is about more than just academics; it's about immersing yourself in a new culture, making lifelong friends, and creating memorable experiences.
In navigating this process, it's beneficial to engage the support of a mentor or a support organization. They can provide invaluable assistance in reviewing contracts, communicating with landlords or rental institutions, and ensuring there are no hidden costs or overly restrictive cancellation policies. They can also help you understand the local norms and customs related to renting, as well as the potential for having occasional guests in your accommodation.
Lastly, don't rush the process. Take your time to research and understand all aspects of your rental agreement before signing. Making informed decisions now can help ensure a comfortable, enjoyable, and stress-free study experience in Austria. So, prepare well, and look forward to the enriching journey that awaits you in this beautiful country.